Mystic River Resort: Fabulous Service and Beautiful Grounds by My Beautiful Belize
Written by Mary Gonzalez
If the thought of spending a few nights truly unplugged, with only the sound of tweeting songbirds and trickling waters to distract you, Mystic River Resort is a perfect choice. Set on acre after gorgeously landscaped acre, Mystic River's individual casitas provide an oasis in the jungle. Its off-the-grid location is perfect for nature lovers who seek some adventure and a true getaway from the busy life outside.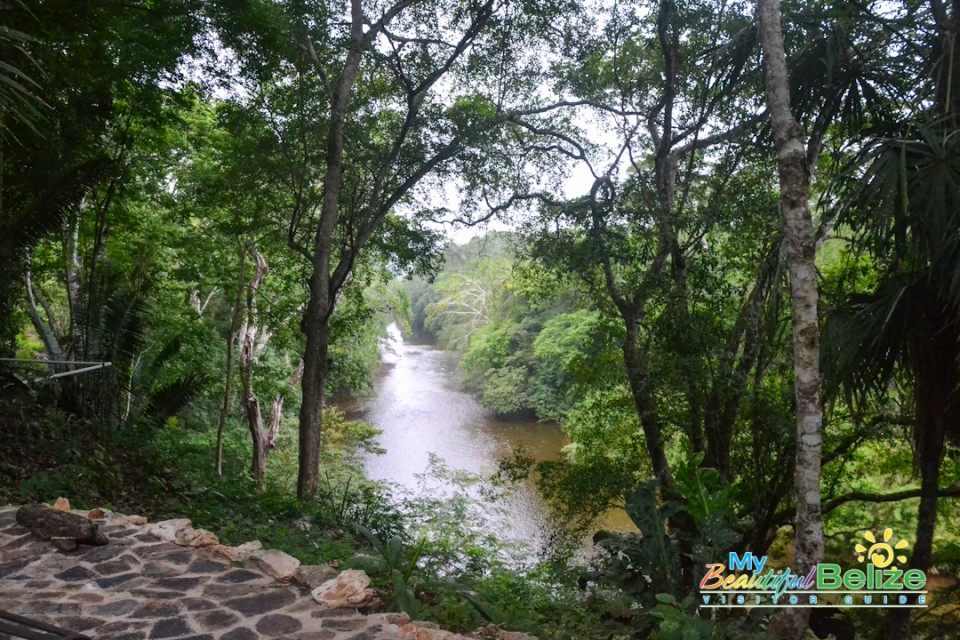 Located in the Cayo District, in between the villages of Cristo Rey and San Antonio, Mystic River offers respite to travelers in fine style.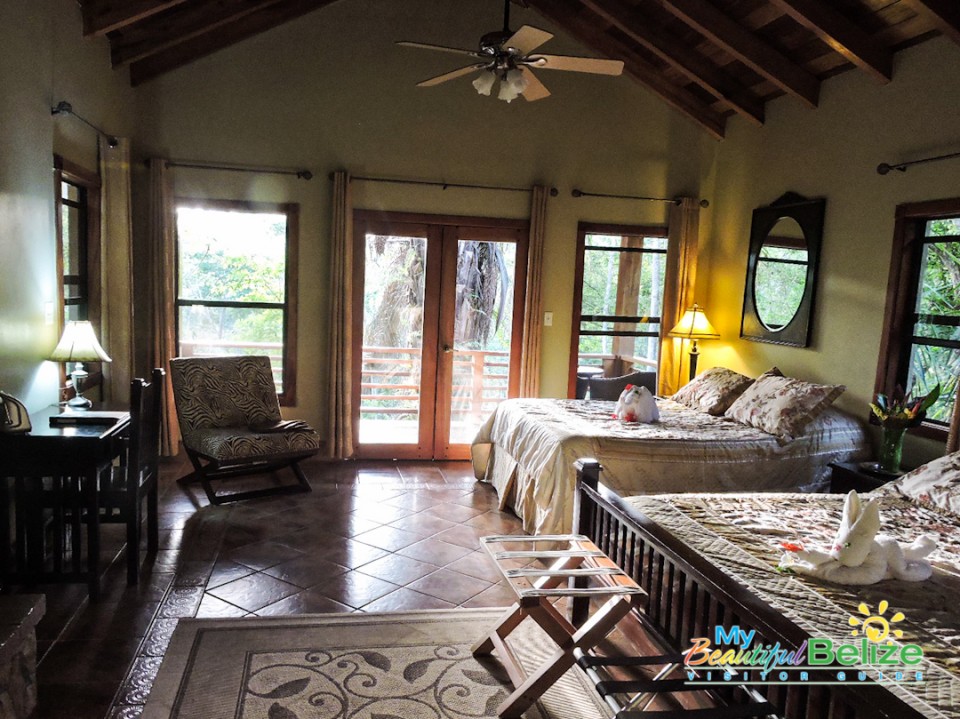 Sumptuous beds, lodge décor (including fireplaces!), a private deck, spacious bathroom – what more could we want?!
Fabulous Service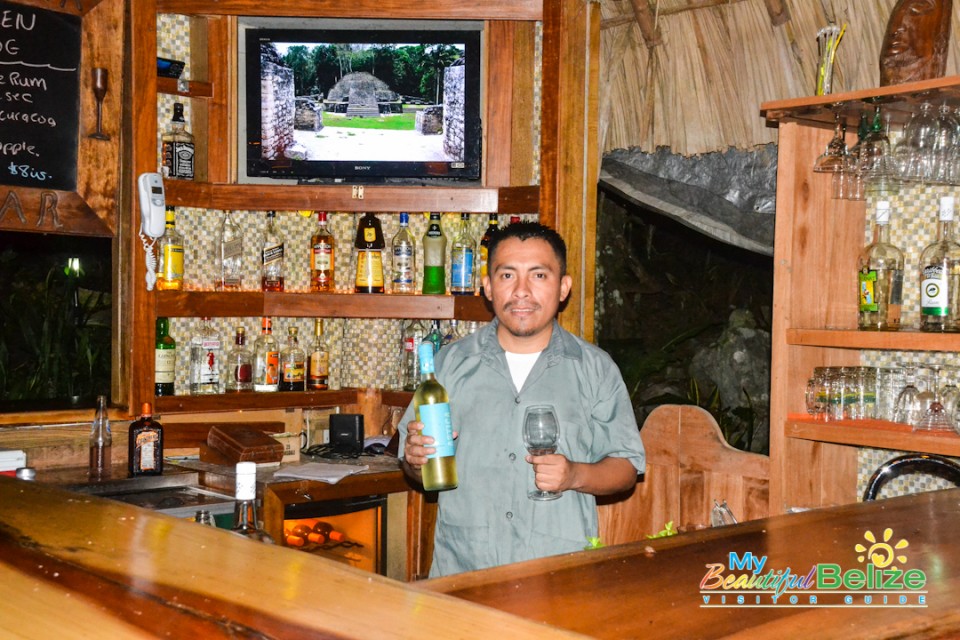 Well, how about delicious fresh food from La Ranita Restaurant? Chef prepares truly gourmet meals daily, including the best steak Tamara's had since moving to Belize 12 years ago. That is some serious accolade, as she's from steak country. Beyond the delicious food, the warm service truly spoils you!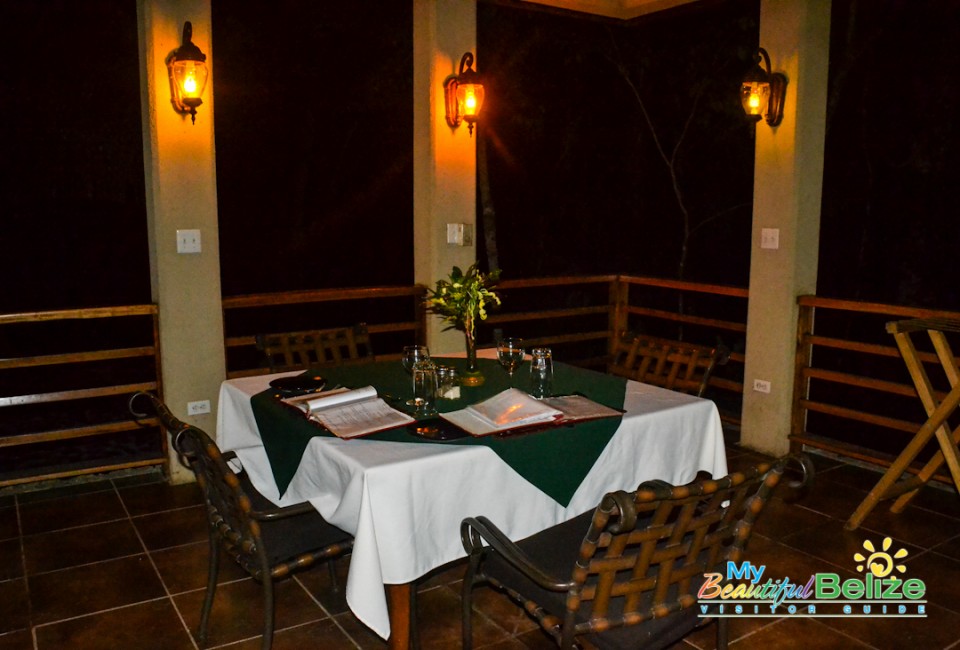 One night we realized we needed to leave the property before the kitchen opened. We began feeling faint at the thought of not getting coffee. Oh, but owner Nadege had the perfect solution!
Leo prepared a coffee basket for us, with a carafe of hot brewed coffee, milk, sugar, cups and teaspoons. At that point, we didn't care if the coffee would be cold by morning, so long as we had SOME! Imagine our pleasant surprise when at 6AM, our coffee poured nice and still hot, and so delicious! These glorious coffee baskets can be delivered to your door first thing in the morning if you want to sip while watching the river meander by from your deck. We tried this the next morning after sleeping in and yes, it's heavenly!
Beautiful Grounds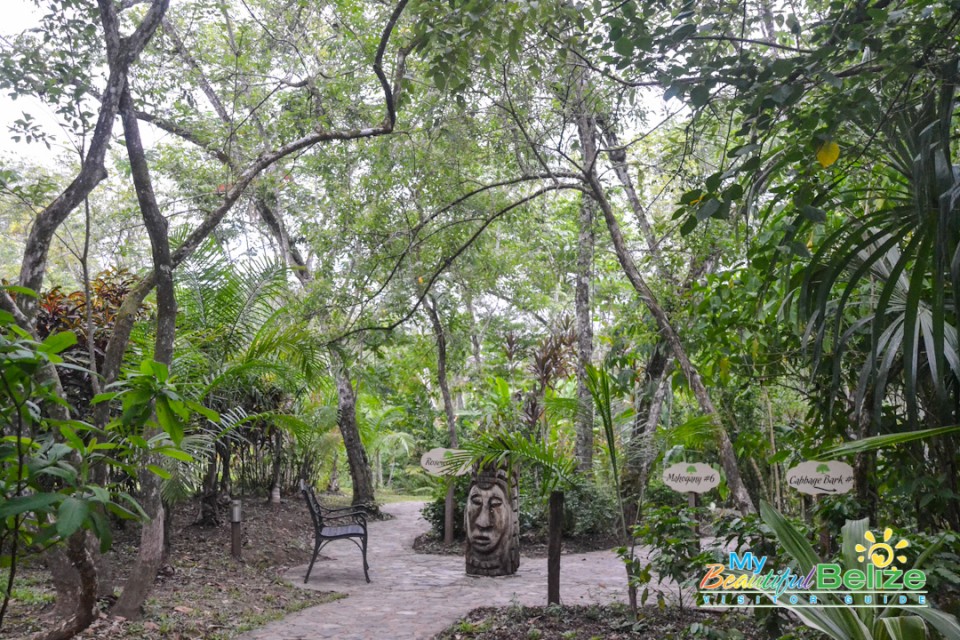 One morning I arose early, hoping to catch the sun as it peeked through the treetops. Seeing as the resort is perched high, and the river meanders slowly below, I decided to hike down. Steps had been carved into the face of the hill, and halfway through my exercise, I found a resting spot. A small covered structure proudly sat, with colorful hammocks strung underneath – the perfect hideaway to swing and read, sip on a good cocktail or two, while the cool breeze from the river blows in.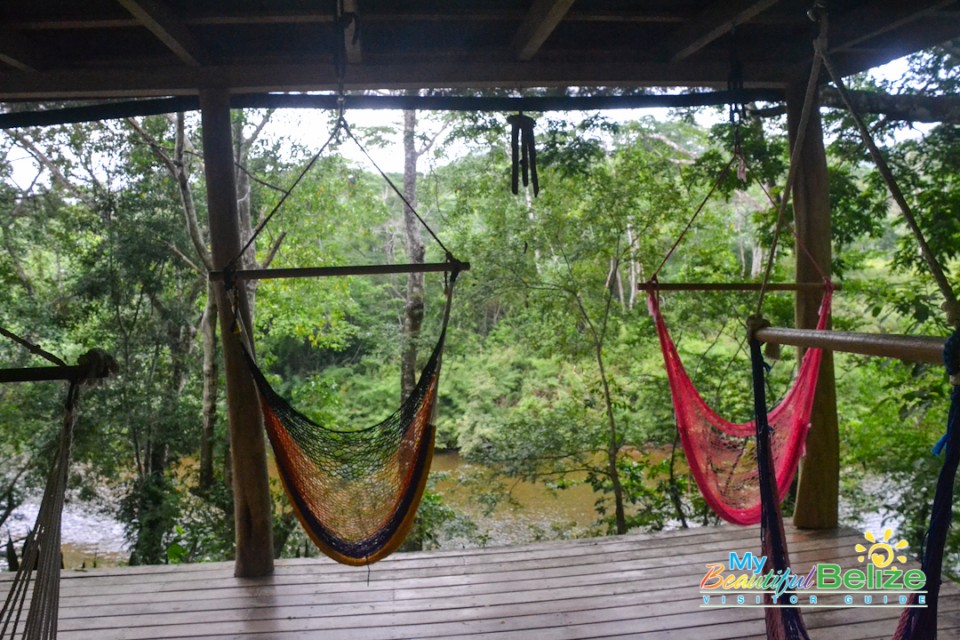 The sound of songbirds was loud and proud. Talk about a birder's paradise! I am not an avid birder…okay, I don't bird at all, but every so often I'd catch a different tweet and wonder which pretty bird it belonged to. Obviously if you know your birds, you'd be naming them as you heard the first note.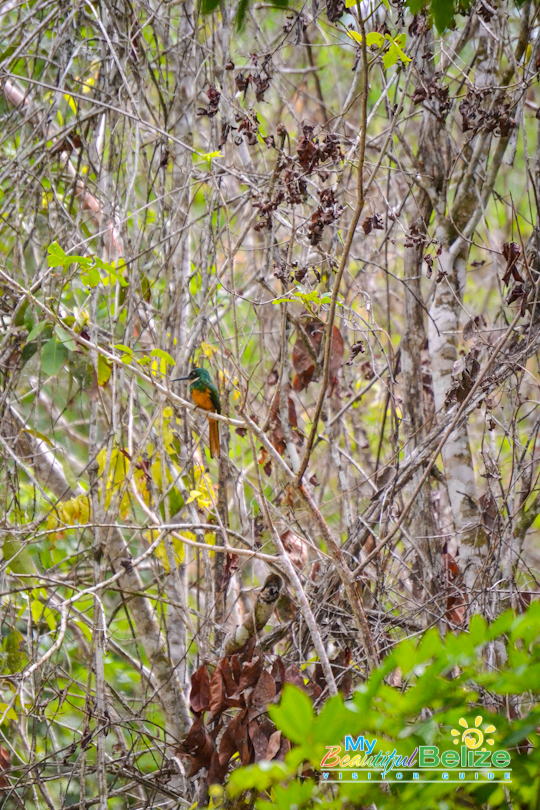 Also catching my attention was the distinctive notes of jasmine perfuming the air. In some areas, the scent would mix with peppercorn trees, creating a heady suffusion of spice and sweet. The cooling breeze coming from the river snaking its way past kept calling to me, and I finally made it down to its banks.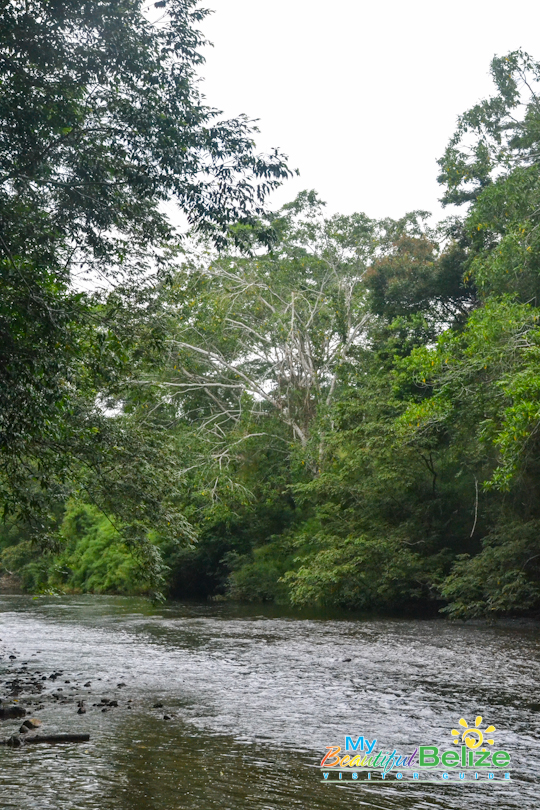 Flanked by majestic trees all along its banks, the sound of the rushing water gurgling over river rocks was soothing. Bit by bit the sun's shine grew brighter, and the last vestiges of mist disappeared to reveal another hot day. Talk about a perfect place to meditate and relax!
Amenities
If you find yourself wanting to be molded and kneaded into relaxation, then head over to the Jasmine Spa. Far off from the main entrance, and tucked halfway up a small hill, the spa provides open air relaxation, complete with plunge pool. Edging the pool and spa structure is its namesake: jasmine plants perfuming the air with its sweet scented blooms.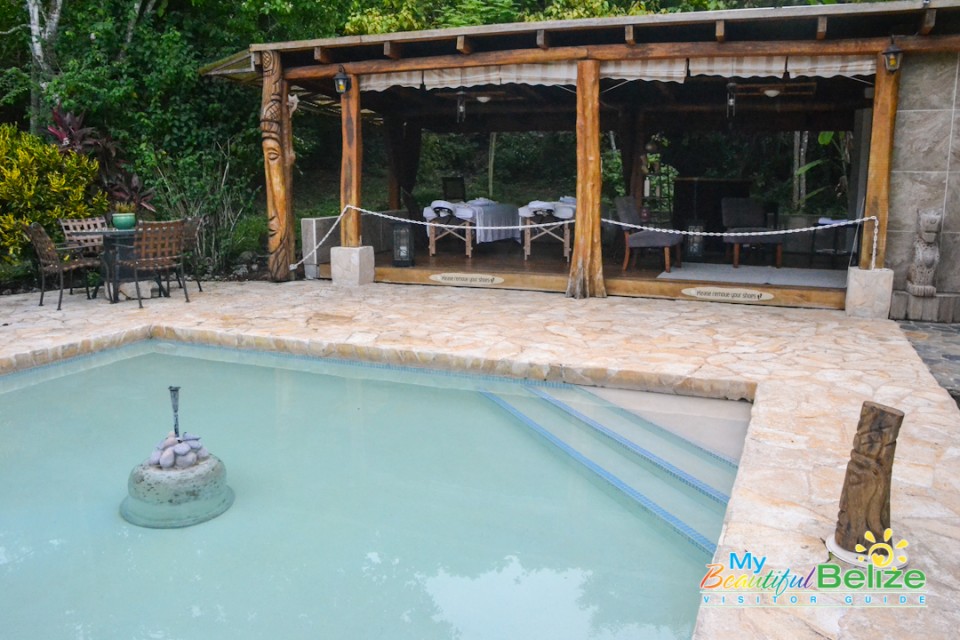 When massage therapist Veronica isn't working on someone's muscles, she's busy crafting scrubs and soaps to put in the bathrooms throughout the resort. That's right! Using fresh ingredients naturally available from the property, Mystic River has crafted sugar scrubs and soaps that provide an added unique layer to the vacation experience.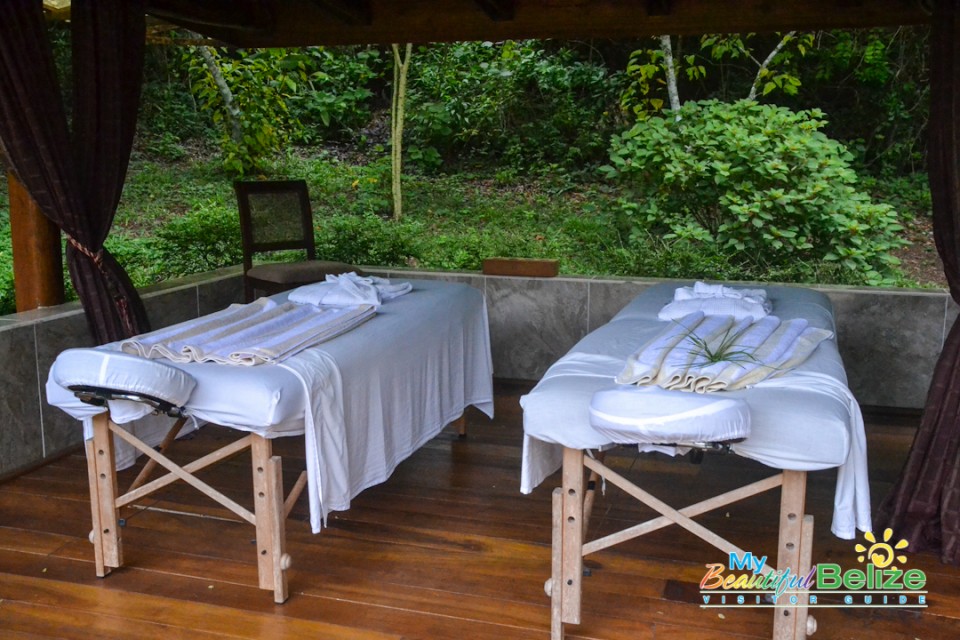 Owners Tom and Nadege spoke to us one evening about their property, and it is clear that they have taken into consideration what can make a jungle lodge guest happy. Details…attention to the little details that can surprise and delight…they go a long way in making a stay at Mystic River Resort a wonderful getaway.
Book Your Stay
Book online via their website, or email questions to reservations@mysticriverresort.com
You can also call them locally via 834-4100.
If calling from the US or Canada, call 1 (336) 510-0675 for reservations.
Mary Gonzalez writes under the pseudonym 'Tia Chocolate'. Tia Chocolate enjoys writing short stories that focus on her life growing up in the small Maya village of San Antonio, Cayo District, Belize.
Tia loves (and we mean LOVE) eating and writing about her food experiences, often times trying out new recipes to try and recreate the foods of her memories. She also loves to travel, indulging in the culture wherever she is privy to visit.
She is slave to a giant cat named Kitty Boo Boo, and her cooking exploits are enjoyed by her significant other, Pookie.